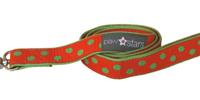 Sally Ribbon Leash
Paw Stars ribbon dog leads are the perfect match for our hip Paw Stars dog collar range.
Co-ordinate your dog collar and lead design or mix and match from our extensive collection.
Sally is an old time favourite, lime green spots on an orange ribbon. A stand out on fawn and grey dogs, Sally never goes out of style.
Paw Stars dog leads are 120cm long and feature brushed metal fittings. Made from grosgrain ribbon stitched on soft nylon webbing, with two easy-snap clips to choose from they are suitable for dogs of all sizes.
Small Clip - 20mm wide to match our small collars - suitable for dogs less than 15kg
Large Clip - 25mm wide to match our medium and large collars - suitable for all dogs
---
We Also Recommend
---